The 'Categories' tab on the admin console allows users to add, remove and edit the categories for slides, presentations and designs. Categories are specific to a particular Department.

Step 1: To edit categories go to the 'Categories' tab on the console.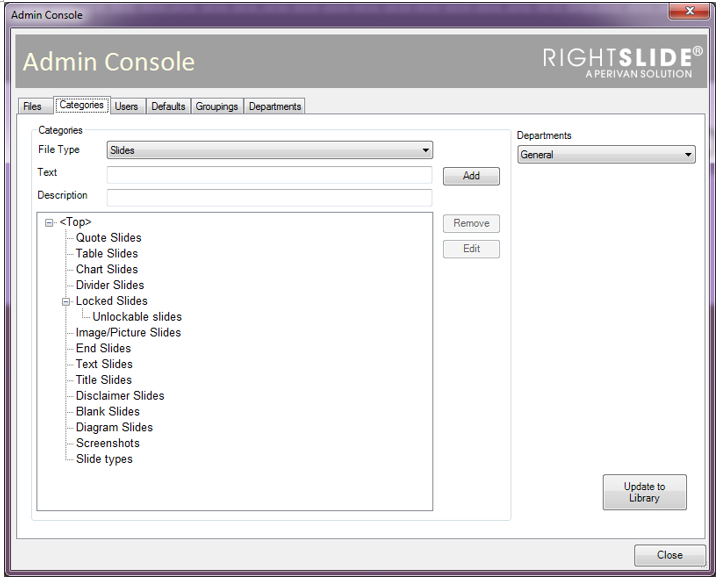 Choose either 'Slides', 'Designs' or 'Presentations' from the 'File Type' drop down. The relevant categories will be shown below.
Step 2: Select the required Department from the dropdown on the right. 

By default departments will follow the categories set the 'General' department. If you wish to create custom categories for a department – select that department and uncheck the 'Same as General' check box. Categories can then be defined for that department. 
Step 3: To add a category fill in the 'Text' and 'Description' and then press 'Add' and the new category will be added to the list. 
Sub-categories can be added by clicking a category from the list and then adding as per the instructions above.
Categories can be dragged and dropped under other categories to change their position in the tree structure.
Step 4: To edit a category select the one to change and press edit this will bring up a panel where the category details can be changed.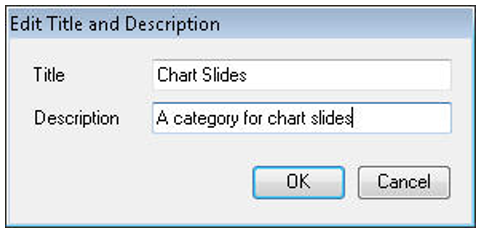 Step 4: Press 'OK' and any changes will be applied.