The 'Update' function allows the user to check the online library for more recent versions of the slides being used in the current presentation. Clicking this option will bring up a panel with a list of all slides. Any slide with a newer version available will be selected by default, the user can then decide if they want to update all the slides or select specific ones they require. Any local editing done on the slide will be lost during the update process.

Step 1: Select 'Update' to check if newer versions of slides are available.

Step 2: A panel will appear with a list of the slides in the current open presentation. This list will show which slides have new versions available. Use the tick boxes to the left of the slide names to select which slides should be updated or removed.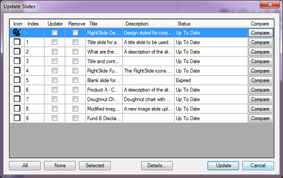 Step 3: Select 'Compare' next to one of the slides to see a preview of the new version and the existing version together.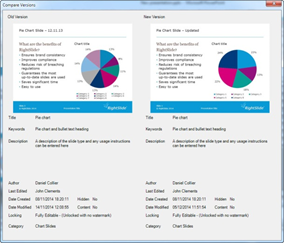 Step 4: With the selection made, hit 'Update' and RightSlide will update the slides in the presentation with the latest versions.