Campaigns act as an umbrella for a group of jobs that can be run simultaneously and grouped together on the site. All jobs within a campaign will have the same Job Bag Type, which is pulled through from the campaign brief. The other fields can be changed.
A campaign is created in a similar way as a job.
You are only required to fill in a few fields within the campaign.  This is the parent job that will carry the main job number, for example, MAR0001.
Within the child job bag, you can go into more detail and fill out the fields that were greyed out before. The only field that can not be changed is the 'Job Bag Type'. Once filled in and created the child job will be given its job number i.e. MAR0001-001, which follows the campaign number pattern.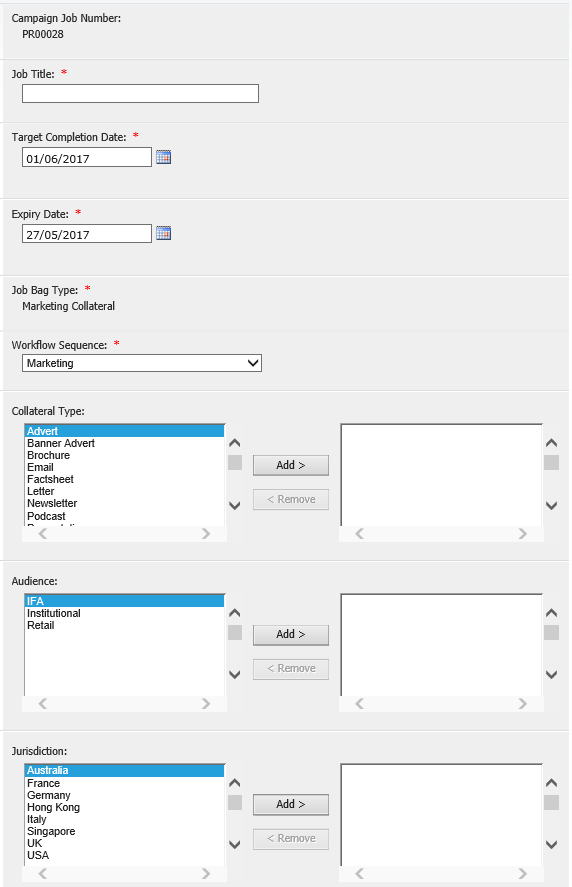 The pattern will continue as you create more child jobs within your campaign.

Watch how a job bag is created within DotApprove in our video below:
This feature is an additional cost to your current DotApprove system. If you would like to have this feature installed on your DotApprove system please don't hesitate to contact our Customer Sucess Team who can talk you through how this can be implemented on your system. The team can be contacted via our email address support@dotapprove.co.uk