When reviewers are added to a workflow, they are not always required to sign-off the workflow. If the reviewer does not complete the sign off-task, it leaves the workflow uncompleted, preventing you from moving onto the next workflow or archiving the job. 
To avoid this happening you can 'Skip Optional Reviewers'. This will instantly allow you to carry on with your workflows.  
Follow the steps below to Skip Optional Reviewers. 
Step 1: Within the workflow information area click 'Skip Optional Reviewers'.

Step 2:  You will be shown which users you will be skipping. 

Step 3: Confirm you are happy to skip the optional reviewers by clicking 'OK'.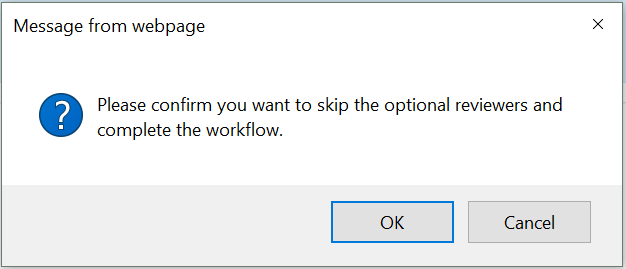 Step 4: The optional reviewers have now been skipped and their status now shows as 'Not Responded'.

 To see how to  Skip Optional Reviewers click on the play button below: