Duplicating a job is a quick and easy way to transfer data from one job bag to another without losing the history of the job that has been copied. It is a useful tool if you have recurring jobs.
Follow the steps below to duplicate a job.
Step 1: Find the job you wish to duplicate and click the hyperlink on the job number. Click on 'Actions' drop down and select 'Duplicate'.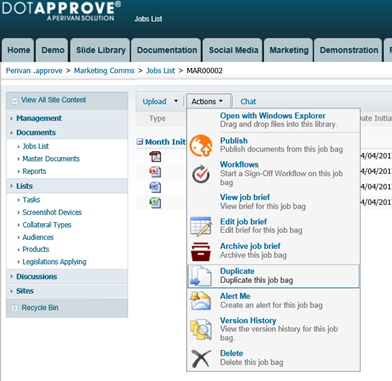 Step 2: Update your job brief as required and click 'Create'. You can also see within the Job Brief form there is a field that identifies the original job the new job was duplicated from. 

You will now be taken into the new job bag. The previous content will be duplicated into the new job. If you delete the duplicated content, this will not remove the content from the original job.
Watch the video below to see how to duplicate jobs: